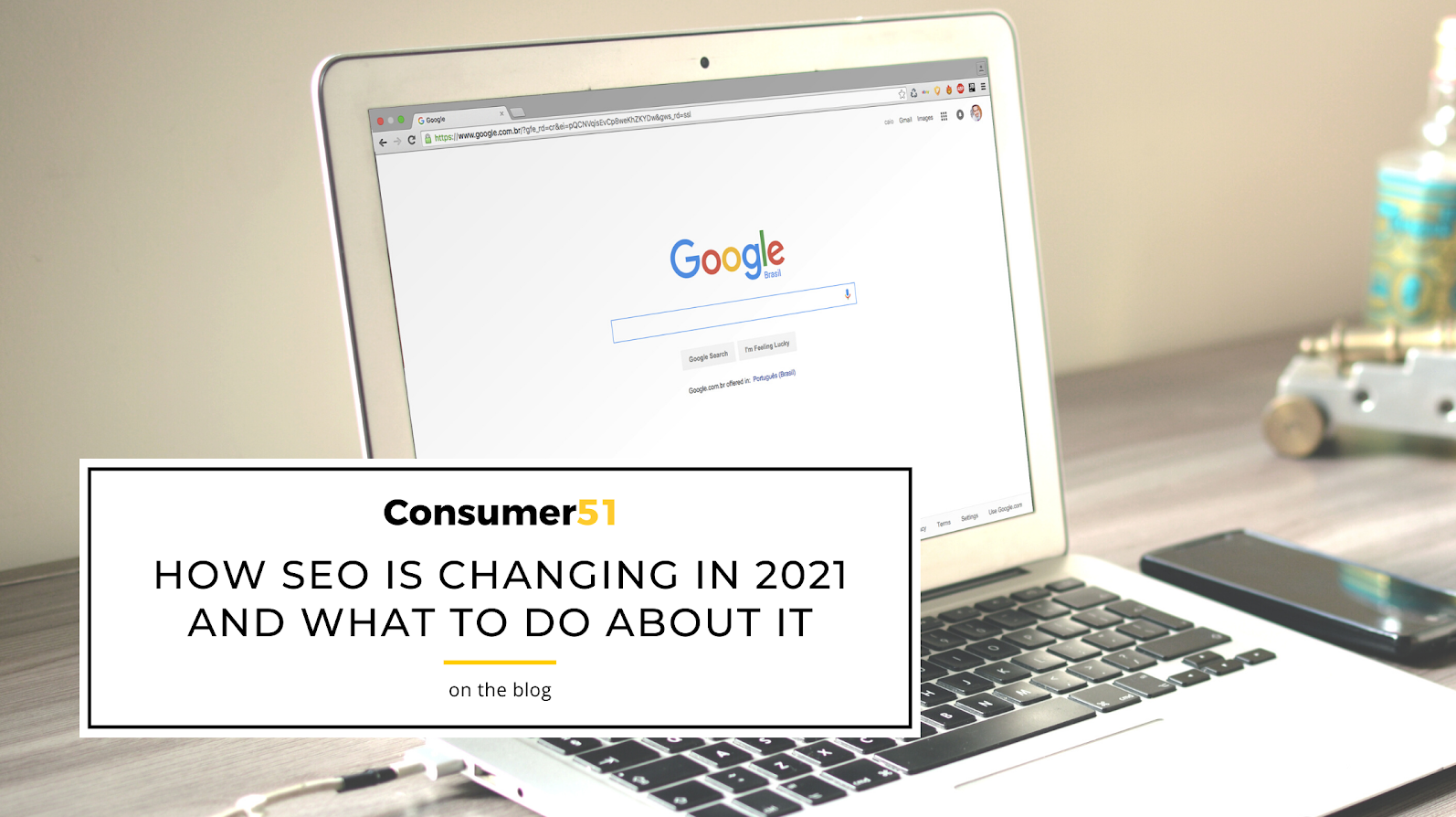 How SEO is Changing in 2021 and What To Do About It
For your business to succeed online today, you have to enlist the help of Google. Your Google rank will likely determine the likelihood of someone visiting your business or finding your product online. There are over 4.5 billion Google searches each day, and the number is steadily increasing.
It is no longer an option to create a website, throw it on the internet, and expect people to find you. In that case, your site will fall to the last page of google. To rank, you have to use Google's SEO guidelines.
As consumers ourselves, and as digital marketing professionals, we spend hours pouring over strategies to help our customers succeed in SEO. We take the time to learn best practices and scour Google for updates and changes to their policies and ranking factors. SEO is a landscape that changes significantly every six months to a year.
In this blog, we'll discuss some of SEO's trends as well as trending directions. You can use this knowledge to help improve your website's SEO and rank in 2021.
User Experience (UX) 
Google has been moving in this direction for a long time, but now they say that user experience will weigh more than it has in the past. In essence, how user-friendly your website is will count towards your ranking position overall score on search engines.
Users aka "people" in 2020 want their information quick, accessible, and well, user-friendly. Take some time to audit your website, and ask these questions:
Is vital information readily available and within 1 to 2 clicks from the homepage?
Are there annoying pop-ups that drive users away?
How quick is your load speed? People aren't willing to wait longer than 1-2 seconds.
Is your website friendly on smartphones, tablets, laptops, and desk computers? What about iOS and Android?
Google is working hard to get people the information they want, and they want it to be as easy as possible. We worry a lot about aesthetics, but functionality is much more critical. You might forego that video plugin to make your site more simple. The more user-friendly your website is, the more Google will reward you with search visibility.
Google My Business
Google My Business is going to continue to be essential to local search efforts. If people are searching for a business like yours in your area, your Google My Business profile must be up to date, accurate, and helpful.
People expect to see photos, business details, phone numbers, reviews, services, prices, addresses, and business hours. The more information, the better. People expect to know what they're getting themselves into before ever leaving the couch. These profiles need to be updated continually.
High-Quality Content
Google is paroling for high-quality content, and that will continue. You may have heard the phrase "content is king," and nothing is more accurate. Websites with high-quality, thoughtful, useful content are getting rewarded.
No one wants to be directed to a website that knows some of their answers, but instead one that knows all of their answers. People want to hear from experts! So if you are an expert in your field or industry, try to produce high-quality content and resonate with people.
Marketing experts have coined the term– 10x Content Pillar Pages, and these are pages that provide 10x the quality of content as most other pages. If you can, strive to produce these kinds of pages in your area of expertise. These are the kinds of pages that you bookmark for future use.
Voice Search
According to TechCrunch, "Smart devices like the Amazon Echo, Google Home, and Sonos One will be installed in a majority – that is, 55 percent – of U.S. households by the year 2022. By that time, over 70 million households will have at least one of these smart speakers in their home, and the total number of installed devices will top 175 million."
So we hope you like your Alexa, because voice-enabled devices are the future! To keep up with the audio questions in search, you have to consider the way people talk. For example, someone might ask Siri, "how do I change my tire?" but type "change tire." Voice search tends to favor long strings of words.
Video
You might be noticing that many ads are coming in the form of videos on your social media platforms. Video is only expected to rise and grow. And more and more, we see amateur video production, because people like to see authentic people giving their real experiences. If you aren't creating video yet, it might be time to consider it.
Featured Snippets
Google started showing "featured snippets" back in 2017, and since they've stolen the spotlight. When you search for something in Google, an answer appears without you having to click on a website – that's a featured snippet.
By having a featured snippet, you'll steal Google's top spot and get lots of traffic. So optimizing your website to include key phrases and questions is also essential. An excellent way to look for featured snippets is under the suggestions that Google shows, the "people also ask" feature.
These snippets quickly answer a question, show a how-to guide, or give information. Consider trying to rank for some featured snippets in your industry.
Load Speed
If you navigate to a website, and the page isn't loading, what do you do? You close out the page or navigate back to search. People do not have the patience for slow websites.
Web speed is increasing worldwide, and phones are moving towards 5G. So at this point, two seconds is too slow.
You can test your website's speed here. Slow pages mean no business. Try to optimize all of your pages for speed, and don't compensate for cool plugins or video features.
The Intent Behind Search
Google is a brilliant engine fueled by artificial intelligence and machine learning, and it's getting increasingly good at figuring out what we were "trying to say." You've likely noticed your search getting better and better in the last few years.
The search engine is trying to read between the lines and get you to the answer as quickly as possible. Humans sometimes spell things wrong and don't string the words together correctly. Based on the time of day or geographic location, Google can use its algorithms to assist you in your quest for information.
Google is adapting to our move towards conversational questions that seem more natural to us. The intent is redefining the marketing funnel, and Google is no longer looking for short keywords, but instead useful key phrases that help people get where they want to go.
The situation in 2020 with COVID has exposed many businesses' weak spots, and it has shown us all how vital web presence is. We saw Google make many adjustments to help out with the COVID crisis; they started favoring government and official websites. They even temporarily stopped the Google Review feature from helping businesses in times of crisis.
Knowing what we know now, it is crucial to have a plan ready for the next time a pandemic or disaster hits. We all need communication plans that are easy to manipulate and change. And we need to be able to update our websites quickly and easily, and we need to share accurate and helpful information. We hope these insights were valuable!